To start off, we would like to say:
thank you!
We recently hit the
50-million-user
mark, and we're stoked to have you as part of the Zoho family. 🎉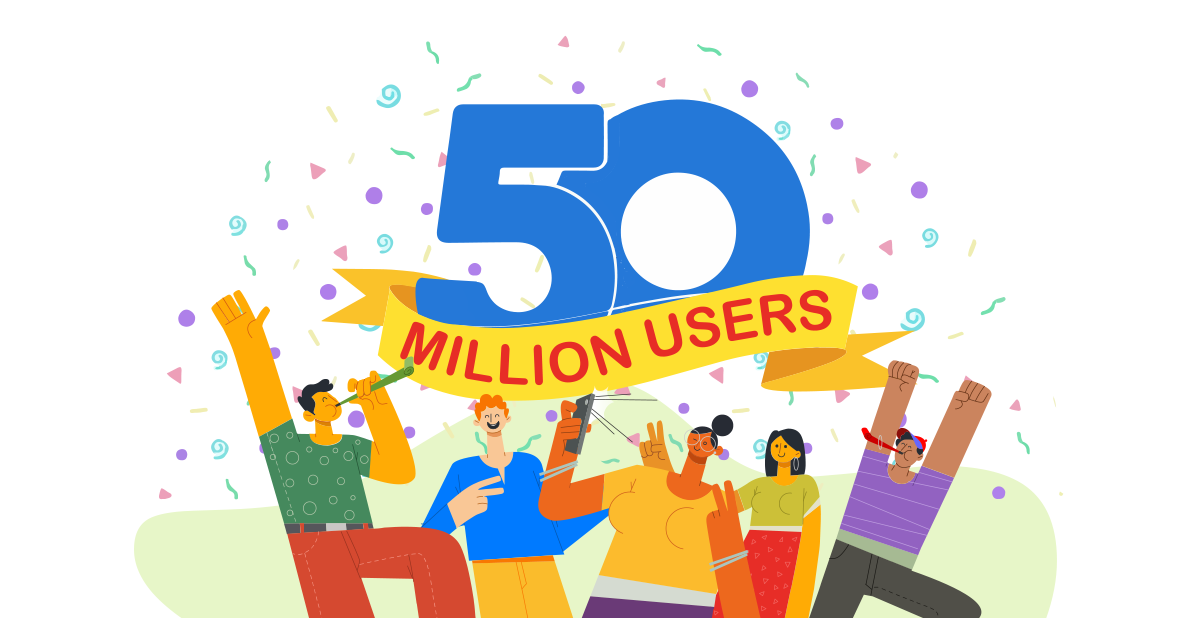 We're trying something new by releasing a monthly newsletter that will keep you in the loop for all things Zoho. This is the first issue, and we're excited to share with you a jam-packed edition of our most noteworthy business highlights.
Let's dive in!

Zoho Catalyst
In October, we released a full-stack serverless developer platform. This will allow developers to build customized apps and microservices without worrying about managing servers. It's powered by the same infrastructure that runs the Zoho suite of 45+ products. Here's more

Zoho WorkDrive
Designed from the ground up, WorkDrive replaces Zoho Docs to give more room for better collaboration between teams. It's now easier for you to work closely with your teammates on documents created in our Office suite: Writer, Sheet, and Show. Read on

Zoho Marketplace
Housing over 700+ extensions already, Zoho Marketplace recently added 16 new apps to help you and your team work better together! Here's the list

Zoho Scanner
Our scanning solution app for Android users is here! You can not only e-sign and translate content, but also annotate documents, automate tasks to save time, and more. Download now
Zoho Workplace

We've made some exciting and significant updates to bring you a whole new experience in our revamped workplace suite. Check it out

Did someone say

We recently hosted our annual user conference in 4 regions.
Canada

India

Saudi Arabia

Bahrain
Two words: full house! Especially in Canada, where we maxed out on the space.
| | | |
| --- | --- | --- |
| Hands-on training with products | One-on-one sessions | Powerful new Zoho solutions |


Tell us about your experience!
It's happening in April, 2020!

Looking for an early bird ticket?

Grab it before the sale ends.

Reserve My Seat
Two new data centers.

A few months ago, we set up two new data centers in Australia—one in Sydney and the other in Melbourne. With that, we now have as many as 8 data centers across the world! We're excited about this expansion as it'll help us cater better to the growing needs of our users in the region.
Achievements from

We grabbed the Bronze award in the regional finals at InnovateFPGA—a global FPGA design contest where teams from around the world compete as they invent the future of artificial intelligence.
We bagged the first place in the category of "Most Innovative API/Open Banking Model" at the Global Fintech Innovation Awards hosted by IBS Intelligence.
OVER TO

That's all for now. There's a chance that this email landed up in your spam folder. If you'd like to continue hearing from us, simply white-list us by responding to this email. Feel free to say "You're awesome!" in the subject line... we wouldn't mind.
We'll be back again next month with more exciting updates!
Until then,
We hope the holiday season treats you well.
Ritika and Nick at Zoho
P.S. We read every email that comes in. Looking forward to hearing from you.
Love using Zoho?

Refer us and get rewarded.

6800 Burleson Road, Suite 200,

Austin, TX 78744, USA

Unsubscribe | © 2019 - All Rights Reserved