| | |
| --- | --- |
| | Zoho Buzz | Issue #5 | April 2020 |
A lot has transpired since the last time we dropped by. This month's newsletter is less about us, and more about helping you and our community.
Abrupt transitions to working from home, uncertainty, and confusion. No one saw this coming. But, we're here to ease the burden and bring comfort to you and your teams during these trying times.
Introducing Zoho Remotely
We put together a remote-working toolkit of some of the most powerful Zoho apps to help you communicate with teams, stay on top of your tasks, and provide remote assistance to your customers, anywhere in the world.
Zoho Remotely is a suite of 11 business and productivity apps-ShowTime, Writer, Sheet, Cliq, Show, Meeting, Sprints, Lens*, Assist, Workdrive, and Projects—available free until July 1, 2020.
Zoho Remotely was released specifically to help businesses transition smoothly into remote work. It's not an easy feat, especially when most business operations require you to be on the ground and have in-person communication.
So, to help you quickly adapt to new working conditions, we interviewed some experts and asked them to share tips and best practices for navigating through such rapidly changing professional situations.
If you're new to this set up, we hope Zoho Remotely provides you with some relief.
Fun fact: The Remotely suite was put together in just 6 days! The whole process, from the ideation to the public launch, was all done working remotely!
*Available for users on US and EU DCs
Emergency Subscription Assistance Program (ESAP)
Having been bootstrapped ourselves, we're quite familiar with the challenges and difficulties that small businesses tend to face. We owe our customers a lot, and to help weather this global crisis, we launched the Small Business Emergency Subscription Assistance Program. Our goal is to lighten the financial load on those small business customers who have been severely impacted by the economic disruption.
With ESAP, we're offering a 3-month subscription fee waiver on all the applications our small business customers currently use. This will be applicable for up to 20,000 qualified customers that have 25 employees or less. Our customers have always supported us. We wanted to do our bit by standing by them.
Think you can benefit from this program? Here's how you can apply.
A round up of product updates

We released a professional bundle for unattended access! You can now diagnose your remote computers, conduct scheduled sessions, and configure remote devices for unattended access with our unique distributor based deployment method. There's more

As more teams around the world are starting to work remotely, we're giving out early access for our upcoming feature: video conferencing with multiple video feeds. Interested in trying it out? Reach out to the Zoho Meeting team at support@zohomeeting.com.

Exciting news for Slack users! You can save your messages as note cards, record and share your thoughts from Notebook as Slack messages, draft notes quickly without leaving your channel, and create notebooks using commands, all from within Slack.

There are 43 new extensions in Zoho Marketplace to help you improve productivity and simplify your work. Discover prebuilt integrations to instantly connect your favorite apps and optimize your business. Explore the list

Email communication is crucial during emergencies, especially right now. We've introduced crisis-based email templates to help you reach out to your employees and customers. Pick a template from our gallery, add your personalized elements, and send empathetic messages. See the crisis templates

While standing up for customers is definitely a priority, it's equally important to have a steady cash flow and ensure you don't run low on reserves. Here are a few best invoicing practices that can help you maintain a balance. Check them out

We released a new guide on Marketing Automation. What does "marketing automation" mean and how can you get started? This guide explains what it is, how you can evaluate your marketing automation results, and save resources while increasing sales and conversion rates. Read our guide
Stay informed with Coronavirus tracker dashboards
As another week of uncertainty comes our way, it's important to stay on top of the latest stats and figures. The Coronavirus Tracker Dashboards, built using Zoho Analytics, will give you the right information to make informed safety decisions for you, your families, and teams.
You can take a quick glance and compare information from the top 10 affected countries, or choose a country to narrow down your search results. We've also curated a set of public dashboards designed by our users and partners from across the world.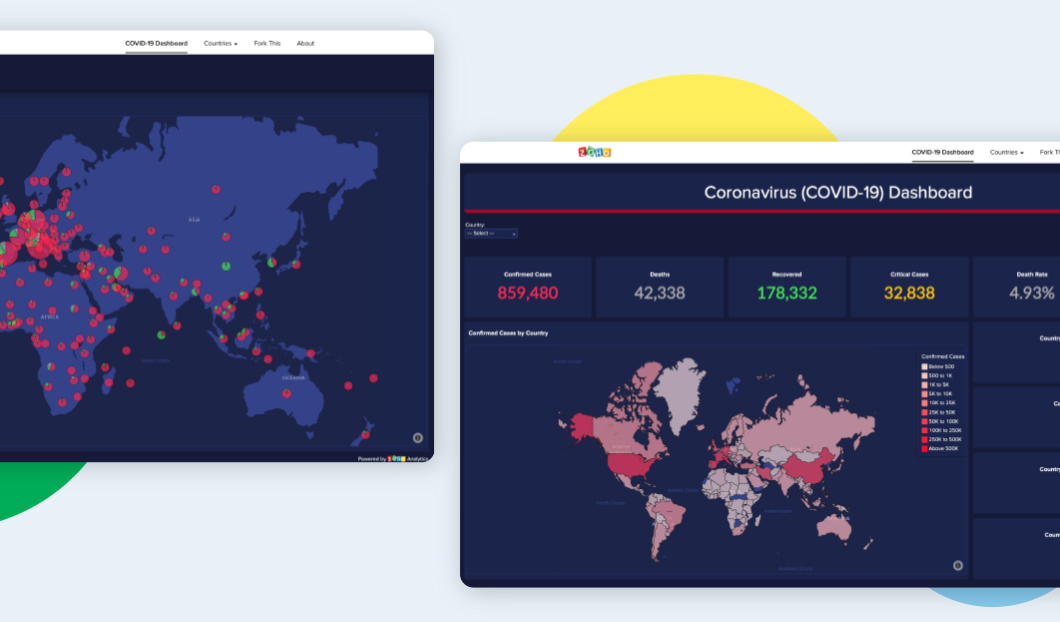 Over to you...
There must be a lot on your mind. Especially with the impact of the pandemic, maneuvering through everyday life and taking care of your business, can be challenging.
We're uncertain what the future holds for us as well, but what we're sure of is that we want to be here for you. To support your business in the best way possible.
Do you have any questions about our programs? Wondering what else you can do to improve your productivity? Feel free to hit Reply and reach out to us. We're listening.
Until next time,
Stay indoors. Work remotely.
Ritika and Nick at Zoho